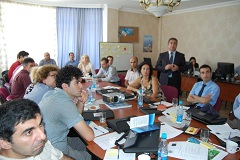 ERC organized training on "Strategic Governance of Think Tanks"
Economic Research Center has successfully completed 3 days training on 28-30 July of 2012 on "Strategic Governance of Think Tanks" within the project of "Enhancing the effectiveness of government by strengthening the role of think tanks in decision-making arena" financed by the European Union.

22 board of governance representatives of 18 NGOs, including 4 NGOs from regions (Ganja, Shaki), participated at the training. With the help of need assessment conducted before and during the training the program of the seminars were adjusted to interests of the participants. Presented 9 modules were prepared on the base of management rules, structure, policy on staff relationships with board of governance, organizational integrity, HR policy and PR policy. The modules were presented by local experts- the head of "Public Initiatives Center" Gubad Ibadoglu, the chief of "Citizens Labor Rights Protection League" Sahib Mammadov and the head of "Support to the Development of Public Relations" public union Shalala Huseynova. Gubad Ibadoglu made presentations on fundamentals and practical methods of strategic development of institutional systems of think tanks, remarkable world experiences, types and categories of think tanks, management rules and structures and integrity policy.
Shalala Huseynova gave seminars on building public images of think tanks, establishing optimal relationships with the government, choosing media strategy and media tactics, PR planning and management and continuous management process for supporting public image. Sahib Mammadov focused on HR policy of think tanks, effective staffing and staff development, preparing work contracts and nuances of work with State Social Protection Fund and with other relevant organization in his presentations.
Furthermore, Azerbaijan specific issues arising while governance of think tanks, barriers impeding participation in the decision making process were discussed during "brain storm" sections of the training. "How should be an ideal think Tank?" question was answered with the simulation of Western Europe and American examples
and effective discussions organized on how to adjust pre-mentioned examples for Azerbaijan case.
It was decided to organize the next training on "Methodical and technical assistance for institutional development of think tanks" in the first half of the September.
For further information please contact Samir Huseynov, project coordinator at Tel: +99412 4651847, E-mail: office@erc.az