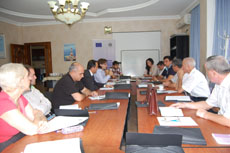 "Increasing the quality control systems in Think-Tanks"
Economic Research Center organized regular training within the framework of the project financed by the European Union
Economic Research Center organized 3-day training entitled "Increasing the quality control systems in Think-Tanks" on September 5-7, 2012 in Baku. With the financial support of the European Union ERC conducts series of training for local civil society institutions within the framework of the "Enhancing the effectiveness of government by strengthening the role of think tanks in decision-making arena" project.
23 representatives of 18 partner NGOs located in Baku and 2 regions (Ganja, Sheki) of the country attended the training.
The first day of the training Gubad Ibadoglu, chairman of the Pubic Initiatives Center provided participants with the general concept of think-tanks, sharing of foreign experiences of think-tanks as well as guides for developing of policy papers and recommendations.
The second and third days of the training were devoted to various types of think-tanks, decisions on how to influence governments (criticism or engagement and the balance between two), relations with scientific centers and businesses. During the session entitled "Choosing the topic, type and timing of a policy report" conducted by prof. Nicu Popesku, head of the Expanded European and Russian program of the European Center for Foreign Relations (ECFR) located in London and Deputy-Director of Moldova Association for Foreign Policy, talked about issues such as choosing of interesting and original topics, to be at the cutting edge of research, setting the agenda through new topics.
The types of publications such as private letters to officials, policy memos, policy briefs, policy reports and essays were also discussed. It was tried to find the answer to the question how they differ and what is privilege of any types of publications, and opportunity of financial searching (fundraising) was discussed for special topics. Furthermore, the trainer has shared its experience on making the documents prepared by the think-tank centers of the European Union ((EU) more interesting and explained low-cost and expensive research models.
The issues regarding to making balance between the attractive journalistic style and academic writing, attracting media attention, establishing effective advocacy campaigns were discussed at the third day of the training. The trainer informed participants about the European experience such as recognition of think-tanks, attracting interest to its products, and increasing of impact on decision making process through various campaigns. He stated that the campaign depends on the types of policy papers and their impact on concrete policies or large-scale debates. While speaking on advocacy tricks and procedures, he emphasized the face-to face meetings with officials, work with media, media pressure, and necessary actions to achieve the adoption of the proposals made in policy papers by the officials. He discussed with trainees the ways of attracting businesses to their activities. The future research plans were discussed and the training was evaluated by participants at the end of the training session.
For additional information contact Dunya Jamalova, Project Manager
Tel: +99412 4651847, E-mail: office@erc.az