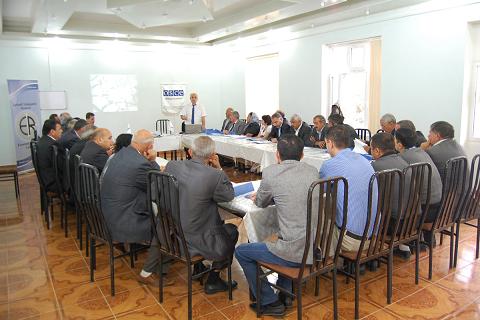 Training and field practice conducted in Kurdamir
Economic Research Center arranged training and field practice for representatives of local ex-coms, leasers of municipality lands, farmers, owners of share soils and experts on October 10, 2012. The training and field practice conducted within the framework of "Natural and anthropogenic factors of soil degradation: raising awareness and social control" project with the financial support of OSCE Baku Office.
The municipality chairmen from Shimikli, Karrar, Pirili, Arabgubali, Shilya, Atakishili, Garasu, Topalhasanli and other villages of Kurdamir region, including representatives from local ex-coms, specialists from State Control Station on Cotton Seeds, Kurdamir Agrarian-Scientific Center, Kurdamir Plant Preservation Center, Kurdamir Seed Laboratory, Kurdamir Agro-chemical laboratory, Kurdamir Water Management were among attendees. Moreover, the chief consultant for Kurdamir Executive Committee, Rafig Tarverdiyev, private soil owners, local farmers and specialists were among participants as well.
The training facilitated by project coordinator Galib Togrul from Economic Research Center (ERC). ERC expert, and trainer Vahid Maharramov delivered presentations on the topic of "Factors producing soil degradation, erosion and salinization: preventive measures". During presentations, the participants were broadly informed about the causes of degradation, erosion and salinization as well as humus layer, and green fertilizers. Furthermore, the presentations were mainly focused on protection of soil fertility through applying new technologies that meet demands of international standards, and effective usage from natural grasslands.
During the training, the trainer brought samples and examples from international experience by emphasizing the significance of injecting crop sowing without ploughing the soil in 30-35 sm. In addition, the video tape on mentioned topic was also illustrated and all these triggered heated discussions.
Besides, typical local issues that cause erosion, degradation and salinization process especially drawn attention to training participants. The other main discussion topics were bad conditioned drainage system that passes through the regions which causes the level of ground water to increase, including salinization and overflow of rivers which trigger the erosion of humus layer as well as desertification of land that became alarming due to over-feeding of cattle in natural pastures.
The second part of the event dedicated to the field practices. The practice arranged in the field where melioration activities had been fulfilled 30 years ago and repair, cleaning works had not been executed since then. Therefore, the collector-drainage system of the field was deplorable. In order to repair the damaged collector-drainage system and eliminate current issues, the farmers were provided with relevant recommendations
The project expert Vahid Məhərrəmov talked about the importance of humus layer and its specification and they were shown all this visually. Later, training participants were explained about the essence of increasing humus layers through keeping the remnants of plants in the fields.
Should you have any questions, please contact to project coordinator Galib Togrul on the following contacts.
Tel.: 465-18-41, 465-18-47, 050-371-12-44, e-mail: q_togrul@yahoo.com
PR DEPARTMENT