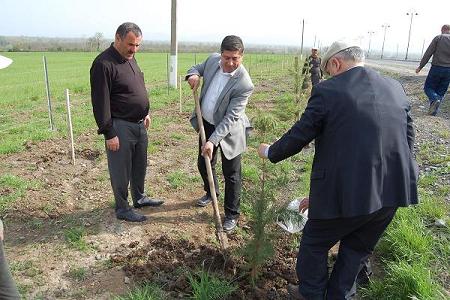 ERC organized forest stripe in Oguz
The Economic Research Center ( ERC) organized planting of trees in Oguz region within the framework of "Public advocacy and raising awareness among land users on protection of soil fertility" project funded by OSCE Baku Office on April 06, 2013.
For this purpose, after acquiring the approval from the local executive committee for allocation of land to plant trees the preparation in this direction was launched and area was cleaned.
Later, 100 units of pine trees were purchased from private household that belong GudratAhmadov living in Cheshmali village of Shaki region. The purchased trees were brought to Oguz, the place allocated for planting forest stripe.
In addition, the deputy of Oguz region executive committee, head of agrarian department Azad Aliyev, the chairman of Oguz Municipality Union EtibarAliyev, including agronomists and other activists living in the region were attended to the planting of forest stripe.
After planting of trees in specified area the expert of ERC VahidMaharramov briefed participants about taking care of planted trees in accordance to agro technical rules and procedures as well as responded to the questions of attendees.
Meanwhile, the next activities within the frames of the project will be trainings and field practices for land users, farmers and leasers of municipality land. In addition, it is planned to conduct the training on " Protection of land from degradation and preventive measures towards decrease of fertility" in Oguz and Gabala on April 16th and 17th respectively. Besides, one field practice will be arranged in Oguz region on April.