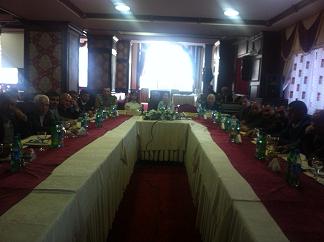 Gubad Ibadoglu held discussions with entrepreneurs in Nakhchivan
Two days seminars on "Increasing opportunities of entrepreneurs in Nakhchivan Autonomous Republic" are organizing with support of Economic and environmental department of OSCE Baku Office. First seminar was arranged on October 24 and the main aim of this seminar is to foster economic development, and create enabling business environment for small and medium sized enterprises in Nakhchivan Autonomous Republic . Additionally, the seminar targets to strengthen dialogue between the state agencies and private sector as well as provide entrepreneurs with practical tools.
At the first day of the seminar, the member of Management Board of Economic Research Center Gubad Ibadoglu delivered presentation on "Challenges and perspectives for management and establishment of a new business". The presentation disclosed the rules of legislation in this field, reduction of interventions to the activities of entrepreneurs, including elimination of challenges faced by them.
The presentation was conducted on interactive and dialogue basis.
It should be noted that the representatives of the Ministry of Economic Development, National Confederation of Entrepreneurs (Employers'), executive committee agencies of Nakhchivan Autonomous Republic as well as experts of international organizations, local specialists and entrepreneurs were attended to the seminar.
On October 25, the first phase of the seminar will be finished and the next series of 3 days seminar will be held on November 6, 7 and 8.
ERC Public Relations Departm