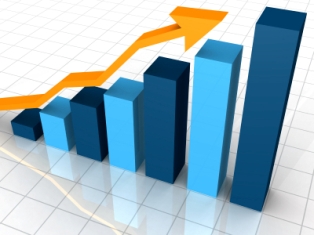 GDP Annual Growth Rate in Azerbaijan was 0.1 percent in 2017
GDP Annual Growth Rate in Azerbaijan averaged 9.31 percent from 2001 until 2017, reaching an all time high of 40.40 percent in the first quarter of 2006 and a record low of -3.90 percent in the third quarter of 2016.
Azerbaijan's GDP volume exceeded 70.1 billion manats in 2017 that is 0.1 percent more than in 2016, according to a report of the State Statistics Committee.
The volume of GDP per capita stood at 7,200 manats.
In 2017, the volume of GDP produced in the non-oil sector of the country increased by 2.6 percent, while a decline by five percent was observed in the oil and gas sector as compared to 2016.
Thus, 40.1 percent (almost 28.09 billion manats) of Azerbaijan's GDP accounted for industrial sphere, 9.5 percent (6.7 billion manats) – for construction, 5.6 percent (almost 3.95 billion manats) – for agriculture, forestry and fishery.
Net taxes on production and import accounted for almost 7.3 percent of Azerbaijan's GDP