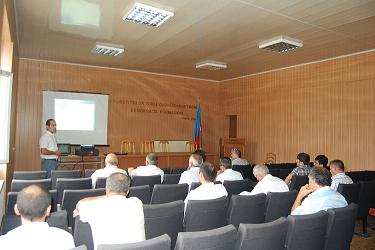 The training on accession to electron services was conducted at Guba and Khachmaz municipalities
On July 19, the training on "Electron governance – accession to electronic services and electronic submition of accounting reports to the state agencies" was conducted at the conference hall of Guba municipality. The training was implemented with support of the Ministry of Communications and Information Technologies of the Republic of Azerbaijan and Deutsche GesellschaftfürInternationaleZusammenarbeit (GIZ). The training was attended by 10 partner municipalities of the so called " Support to self-governance in South Caucasus" project implemented by GIZ. They are as following: 5 municipalities from Guba region ( Igrig, Timryazev, Valvala, Digah-Khucbala, Talabıqıshlag) and 5 from Khachmaz region (Gımılqıshlaq, Lacat, Pirquluoba, AshagıZeyid, Godakli).
The training was involved by RuslanMursalov, software specialist from the Ministry of Communications and Information Technologies, RufatIsayev programmer, specialist on general issues RashiadSamadov and Altay Jafarov, member of Chamber of Audits.
First training was delivered by Altay Jafavor on " Electronic presentation of accounting reports" and he talked about the formats of these reports as well.
Second training was delivered by RuslanMursalov on " general overview of electronic governance". He touched upon legislation, the policy of government and the importance of it in this direction. The second part of the training was dedicated to electron governance portal.
RufatIsayev trained participants on " electronic signature" and explained the gist of electronic signature, sustainability, usage rules, its employment and statistical indicators in this regard.
At the end, Rashid Samadov visually showed attendees how to use the electronic signature.
It is worth to mention that the local partner of the project is Economic Research Center.