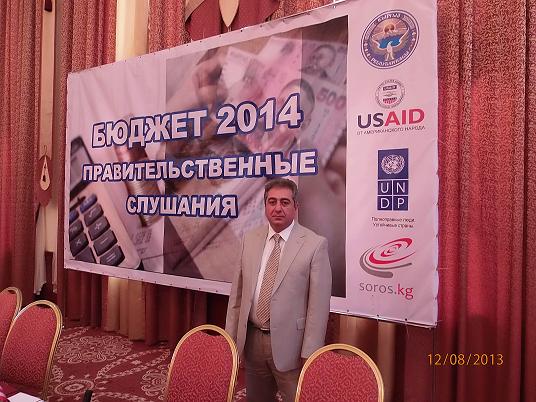 Gubad Ibadoglu attended to budget discussions of government held in Kirgizstan.
The economic-expert conducted training for civil society of this county
The member of Management Board of the Economic Research Center Gubad Ibadoglu paid visit to Bishkek on August 11-17 with invitation of United Nations Development Program. G.Ibadoglu partook in 2014 draft budget hearing organized by the government of Kirgizstan, including discussions dedicated to macroeconomic forecast by 2015-2016. The discussions were attended by the head of all state agencies represented under the incumbent government, members of parliament as well as delegations from local non-governmental and international organizations. Moreover, the Prime Minister Jantoro Satıbaldıyev and the Minister of Finance Olga Lavrov delivered speeches on the draft budget of next year at the event. Additionally, the outcome of budgetary expertise conducted by local experts over anti-corruption, gender and ecological field were disclosed at this meeting as well. Gubad Ibadoglu, acting under international expert status at this meeting presented his feedback over budget draft of 2014. At the second day of the conference, the budgetary discussions on distinct fields ( social protection, health care, education, culture, court system, transportation and communication, extractive industries, agriculture) were arranged in groups.
Besides, Gubad Ibadoglu conducted two days training on budgetary system, budgetary process, classification of budget and applied budgetary analysis for representatives of local civil society on August 14-15.
It is worth to mention that after the training it was decided that the next similar training will be arranged for employees from the Ministry of Finance, Chamber of Accounts and members of parliaments as well.