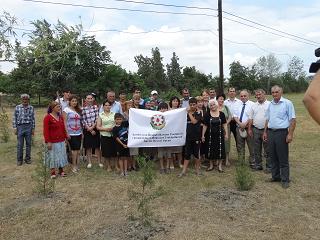 Tree-planting campaign was held in Lajat municipality.
On June 12, 2014, Economic Research Centre, within the framework of its "Strengthening the role of municipalities in the protection of the environment" project carried out with financial support of Association of Non-Governmental Organizations under the President of the Republic of Azerbaijan, held a tree-planting campaing in Lajat village of Khachmaz district.
In the campaign held in Lajat rural secondary school area,100 pine saplings were planted and watered. In total, 40 people participated in this tree-planting campaign, including Executive Power Representative Y.Khanmadov, Acting Head of Lajat Municipality A.Khanmadov, Lajat Rural Secondary School Principal M.Khanmadova, Project manager V.Maharramov, Expert of the Economic Research Centre R.Imanov, members of municipiality, local people, school teachers and students.

For further information, please contact the coordinatior of the project Vahid Maharramov.
Tel.: 564-86-85, e-mail: office@erc.az, vahid.58@mail.ru
ERC Public Relations Department