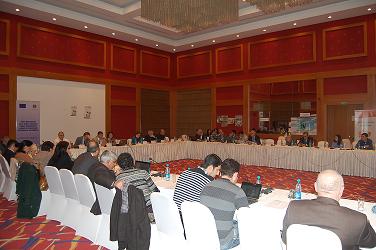 ERC organized final conference and exhibition of partner think tanks
The Economic Research Center (ERC) has implemented "Enhancing the effectiveness of government by strengthening the role of think tanks in decision-making arena" project funded by European Union (EU) in partnership with Policy Association for an Open Society (PASOS) and "Intelligent Citizen" Enlightenment Center (ICEC). The main aim of two years project was to contribute to de-monopolizing public policy decisions in Azerbaijan by building institutional and research capacity of partner think tanks through increasing their responsible participation in inclusive policy making in the country.
On December 12, 2013 – the exhibition demonstrating products of partner think tanks and the final conference dedicated to the results of project had been organized at "Dan Ulduzu" conference hall of Park Inn hotel. The conference was attended about 50 representatives of foreign embassies, international organizations, including state agencies, business community, press and local civil society institutions. GalibBayramov, the chairman of ERC Management Board delivered opening remarks and briefed participants about the event. The programme manager of the European Union Olaf Heidelbach highlighted the importance of strong think tanks to support evidence-based policy-making, which serves ultimately the development of the country. He also mentioned that one of the key objectives of the project was to narrow the gap between state agencies and think tanks in Azerbaijan
The project coordinator RamilKazimov made presentation about the implemented activities within 2 years. He underlined that within the framework of the project, 7 trainings were conducted for selected 18 NGOs from 4 regions in order to enhance their knowledge and capacities. Additionally, ERC has provided its methodical support to the partner think tanks on development of strategic management and quality control institutions. R.Kazimov also mentioned that the partners have developed their relationships with business community and state agencies within the frames of this project. Furthermore, ERC assisted the partner think tanks to strengthen their relations with media outlets and simultaneously organized the training for representatives of mass media.
Project coordinator briefed conference attendees about the establishment of Azerbaijan Think Tank Alliance and its website (www.thinktank.az )as well. Additionally, ERC has published the Journal of policy papers of think tanks in two editions with two languages.
The representatives from partner thank tanks, Hasan Huseynli (Intelligent Citizen" Enlightenment Center Public Union) and Sabit Bagirov (Center for Economic and Political Studies) delivered succinct speeches about the advantages of this project for their organizations.
The member of ERC Management Board Dunya Camalova disclosed the results of survey conducted among mass media and NGOs in Azerbaijan within the frames of this project aimed at selecting the state agency open for cooperation. According to her, this survey was conducted among 35 journalists and NGOs and relevant questions were incorporated to the survey questionnaire that enables to determine the level of cooperation between state agencies and civil society institutions. According to the survey results, Ministry of Taxes has been awarded the first place with 55 votes. We are presenting the list of top 10 Ministries selected in this survey: Ministry of Communication and Information Technologies ( 29 votes), Ministry of Economy and Industry ( 29 votes), Ministry of Labor and Social Protection of the Population ( 26 votes), Ministry of Ecology and Natural Resources ( 22 votes), Ministry of Internal Affairs ( 17 votes), State Social Protection Fund ( 17 votes), Ministry of Justice ( under Center working with municipalities and Penitentiary service -16 votes), State Oil Fund ( 14 votes), State Statistical Committee ( 13 votes), Office of the Prosecutor ( 13 votes), State Commission on Student Admission (12 votes) and Ministry of Education ( 12 votes). After the presentation, participants expressed their views about the realized survey.
Afterwards, G.Bayramov presented the results of selection the best policy paper among submitted papers by think tanks. He noted that the evaluation of these papers was conducted by 5 local and foreign experts. The winner was Support for Economic Initiatives for its "Strengthening Financial Capacity of Azerbaijan's Municipalities: improving the taxable base of physical entity property tax" policy paper.
The award was presented by one of the member of selection committee, Shahla Ismayil (Women's Association for Rational Development) to the head of winner organization Azer Mehtiyev.
After the conference, participants attended the exhibition and partner think tanks demonstrated their products and services.
ERC Public Relations Department